The Top Waiter and Waitress Interview Questions (and How to Answer Them)
Learn to Answer these Common Server Interview Questions for Waiters/Waitresses and Get a Higher-Paying Job
Want to become a waitress or waiter? Being a server is a great job that offers the chance to interact with customers and the opportunity to earn more income with flexible shifts. Whether you are searching for a full time server position, or a part time gig to earn extra cash to pay your bills, being a waiter or waitress is a fun and satisfying experience.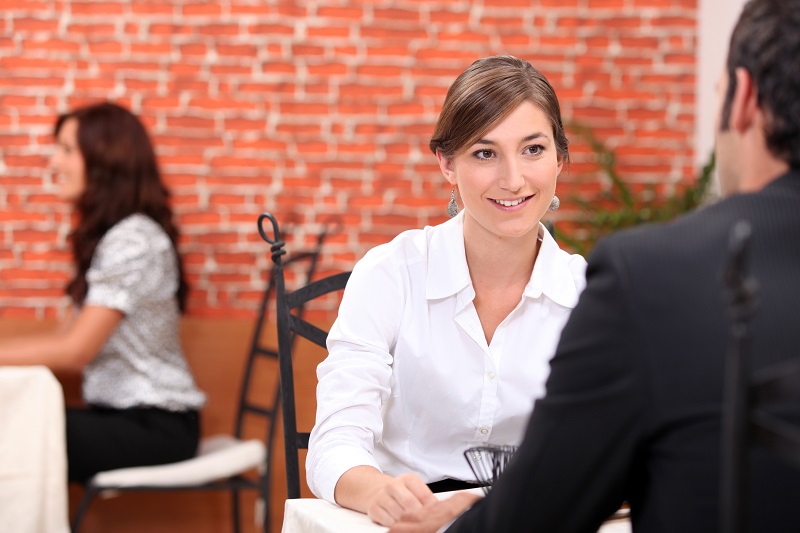 Server positions can be very lucrative. Some servers earn $350 or more in tips in a single day. However, you have to get hired at a restaurant where you'll make big tips. The high-paying waitress and waiter jobs are more competitive. That means you need to prepare for the waiter or waitress interview. Learn how to answer the most common waitress and waiter interview questions and you will look like a pro and get a big leg up on the competition.
Don't underestimate the server interview process. Hiring managers want to make sure you are right for the job. They have specific questions they ask servers to see if they are right for the job. Take time to study these common waitress and waiter interview questions and you will answer with confidence and professionalism. That will give you a leg up on the competition.
Here are the most common waiter and waitress interview questions and how to answer:
Why do you want to be a waitress or waiter?
This is so common it might be the first one you hear. Offer two or three reasons why you want to be a server. Include things that prove you will be a good employee and are able to learn on the job, make customers happy and deliver the top notch service hiring managers want from their wait staff.
Answer: Waitressing allows me to get to know other people which I enjoy, but it also allows me to learn quickly and develop new skills, and ensure I can deliver the top-notch service everyone expects when they go out to eat.
What is your greatest strength as a server?
This question is open-ended and it can be scary trying to tackle it head on. Just remember they want something specific. Your interviewer is trying to get to know you and learn how much experience you have. They want to see what you excel at and where you need help with.
Include how much experience you have and a time you went above and beyond to make a customer feel good.
Answer: In my ten years serving people I've always been prompt and attentive and never left a table sitting for long. I am dedicated to a higher level of service and making sure everyone works together as a team.
What is your biggest weakness when serving?
Be honest about your weaknesses but don't spend much time on this one. If you mention tardiness or missing shifts the interview will end in a heartbeat. Instead wrap your "weakness" in a strength and make an example of how it shows good character and the ambition to be good at your job.
Answer: My weakness is trying to do too much at once, because I want every customer to be happy and feel comfortable and taken care of. But I do need to learn to slow down and prioritize so I don't get overwhelmed.
What is your experience level as a waiter/waitress?
This is a fairly easy waiter/waitress interview question and your hiring manager will appreciate a straightforward answer. Be honest and upfront. Remember, you can still get a job as a server without any experience at all if you sound confident and professional.
Answer (if you have experience): I have over 6 years experience as a server. In that time I have served a range of customers. I have used many different POS systems, set tables, learned how to make certain drinks and always tried to contribute to the team atmosphere.
Answer (with no experience): I don't have any formal experience but I am really excited to learn how to be the best server I can be. I am outgoing, personable, and I really want customers to have a great experience. I'll put my best foot forward and am ready to be trained and learn the ropes.
What do you love most about being a waiter or waitress?
This is your chance to show your passion for being a waitress. Restaurants have a high turnover rate, so they really want to hire people that love their job and will have a great attitude. Most of all, they want servers who really try to give their customers the best service possible.
Answer: I love being a server because it allows me to interact with people, think on my feet and each day I can learn one new way to deliver better service. I love seeing customers smile and enjoy themselves. I love staying busy and there's always a million things to do when you are a server.
What do you absolutely hate about being a waiter or waitress?
This might seem like a trick interview question but it's just a way to get to know you and see what you really don't like about serving. So, be honest. There's always things you won't like about the job. Show them how you work through the issue as well.
Answer: I don't like it when I have to deal with the customer that's impossible to satisfy. In fact, I hate it when any customer is not happy. But I always try to find a way to make them happy and leave with a good impression.
Describe a time when you had to deal with a difficult situation and how you resolved the issue.
Every server will eventually face a difficult customer. Your interviewer wants to know how you will deal with these situations. Choose a time when you had an angry or discontented customer and emphasize how you solved the issue.
Answer: One time I had a large table of 15 people and they all had complicated drink orders. Our bar was understaffed, and our kitchen was short a few line cooks. I made sure the kitchen was prepared for my orders and made some of the drinks at the bar. In the end, my manager thanked me for handling the rush so professionally.
Why do you want to work at this restaurant?
Great waitresses and waiters can work at any restaurant. So, your interviewer wants to know why you want to work for them specifically. Have two or three good reasons why you want to work for the restaurant. It shows you have done your homework and you'll make a good fit. Remember, managers want employees that are excited about coming to work.
Answer: This restaurant has the best food in the neighborhood, and I think I will really be able to connect with the customers here because I actually enjoy coming here. My true love for the food and atmosphere will show through.
What other types of experience do you have asides from waiting tables?
Some restaurants want you to do various tasks along with serving like making desserts, crafting the occasional cocktail or mixed drink and table setting. They will ask you what additional experience you have with any of the tasks servers normally perform. So, tell them about all the different tasks you performed in previous jobs.
Answer: At my previous job I made sundaes, prepared simple desserts and made the occasional cocktail to help out the bartenders. I have actual bartending experience as well. I can also set tables. I worked for a catering company and this was part of my role. In this role I also gained experience as a sommelier.
Tell me about a time you had an angry guest and how you dealt with it.
Every server encounters the disgruntled customer. Your interviewer wants to know that you've dealt with this in a professional manner. Pick a situation when a customer got angry and you diffused the situation. If you don't have one, explain briefly how you would deal with this type of situation.
Answer: A customer once became angry because their steak was not cooked properly. So, after hearing their complaint I calmly replied that I would be happy to take it back to the kitchen and have it cooked properly.
Why do you think you would make a great addition to our team?
This is your chance to show them what you bring to the table (pun intended). When they ask this interview question wow them with a team-player attitude. Most managers want real team players that raise the level of enthusiasm for everyone. Be ready to explain how you would fit in and what special talents you offer.
Answer: I am a hardworking server and I want to make every guest feel welcome. I always try to be positive and this shows through in everything I do. This leading by example approach rubs off on other servers, so I think having me around will be a positive for everyone.
Have you ever used a POS system or taken payments, and what type of payments have you taken?
Servers will handle cash, take payments and use POS (point of sale) systems. Explain your experience taking payments and be detailed. Describe the exact experience you have using POS and taking any other form of payment.
Answer: I have handled credit card payments, cash and gift cards. I have used multiple types of POS systems and software. I can learn how to run these systems very quickly and at my previous job I helped train employees and was often asked how to solve simple issues with them.
Are you comfortable working long shifts and being on your feet all day?
Serving is tiring work because you are up and walking around all day. Be positive here and just explain that you have worked on your feet before.
Answer: I have worked long shifts before and at my other position I was on my feet all day. I am a high energy person and I like to be moving around. Working long shifts won't bother me. I am used to it.
How would you handle multiple tables and orders at the same time?
Restaurants get busy and you need to be able to handle the rush with ease. When asked this interview question, be ready with specific examples.
Answer: I always handle large groups and multiple tables well. I keep track of all my orders and have a specific way of writing them down, so I keep track of everything more easily. I visit each table and make sure every guest is accommodated.
If we hire you as a server, what responsibilities do you think your daily tasks will be?
Managers want to know you understand what's involved in a typical server role. But not all server positions are the same. Be sure you read the entire job posting so you know what they want their servers to do.
Answer: Well, I read your job description and it said I would be waiting tables, taking orders, serving food and using the POS system. It also mentioned table setting and prep work.
How important is it to maintain a safe workplace and how do you contribute to a safe work environment for yourself and others?
Safety is extremely important in a restaurant. So, some managers might ask this one. Be ready to answer with a short and sweet response showing how safe you are.
Answer: I always watch my step, wear comfortable, stable shoes and avoid wearing loose clothing. I also communicate with other servers and make sure they are aware when I am carrying plates near them.
These are just a few of the most common waitress and waiter interview questions. You will find some real curve-ball questions during your interview. If you give positive responses, keep your cool and show you are willing to learn, you will land that higher paying server gig
All waiters and waitresses need to be problem solvers with a great attitude. Show them that's who you are! You will stand out and get hired that high-paying paying waiter job!

Related articles